Offset Adapters (35 mm)
SKU# 5601179
Offset Pad Adapter / 35 mm Pin / SET OF 4
---
Offset adapter design allows operators to easily position lift points without the need for constant arm tube adjustment.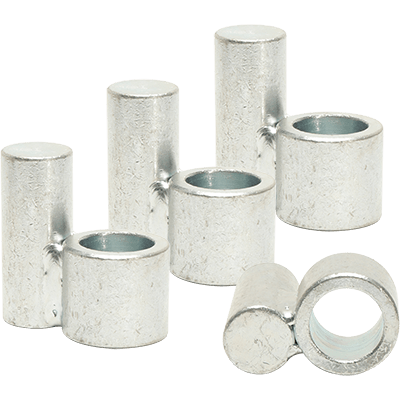 Offset Adapters for Fast, Easy Lift Arm Adjustments
Making minor adjustments to your lift pads is a snap with BendPak's two-post lift Offset Adapters. These adapters are designed to increase the range of motion of your contact pad by 200% to give you the extra motion you may need to get your car in the air. Offset Adapters are not compatible for every lift. With their 35 mm pin, Offset Adapters only fit our GP-7 series or any two-post lift that accepts 35 mm adapters, and can only be combined with a similar 35 mm lift pad adapter.
With any two-post lift, finding your car's lifting points is vital. Your lifting points determine your car's center of balance and have an enormous impact on two-post lift safety. Some lifting points may be more difficult to reach with your basic Lift Pad Assembly. Offset Adapters allow your lift pad to swivel around to find hard-to-reach lifting points so you can lift your vehicle safely, and easily.
All car lift accessories are intended to help you customize your two-post lift so that it can adapt to any situation. Offset Adapters are a handy tool to have in any shop that plans on working on a variety of cars. Not only do they make it easier to find lifting points, but they are also great for adjusting the height of your lift. Offset Adapters give your lift pad an additional 44.45 mm of height, which can be combined with BendPak 76 mm and 152 mm adapters to help you maximize your lifting potential. If you want to extend the versatility of any two-post lift, then Offset Adapters are a great tool to have in your shop.
Features
Provides a mid-step adapter height that is ​38 mm lower than the current ​76 mm adapter
Increases the pad range of motion by 200%
Offset design allows you to make final OEM lift point positioning without the need for constant arm tube adjustment
Can be used in conjunction with BendPak's ​76 mm or ​152 mm adapters
Offset Adapters (35 mm) Specifications