MLS-18
SKU# 5175207
8,165-kg. Capacity / Mobile Jack Stand / Each
---
For extra support exactly where you need it most, count on the BendPak MLS-18 Mobile High-Lift Jack Stands. They're capable of holding up to 8,165-kg. each.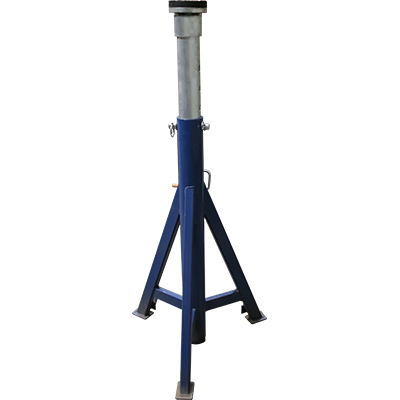 High Jack Stand for Raised Vehicles
The MLS-18 is a support stand used to support raised heavy-duty vehicles and facilitate maintenance and inspection procedures. The support stand is designed to be used in sets of four, six or eight and must be placed under a level, raised vehicle at the support points designated by the vehicle manufacturer.
Features
8,165-kg. capacity
Tripod design evenly distributes weight under load
Each leg is equipped with an 11 sq. in. floor pad
Can be easily moved and placed under a vehicle by means of two ​76 mm diameter wheels
Equipped with a foldaway transport handle
Centre tube is spring-assisted to facilitate adjustment of the stand
Adjustable from ​1,238 mm to ​1,892 mm
9 pin positions
​25 mm diameter self-locking ACME screw for fine adjustment of the stand height
MLS-18 Specifications
Minimum Height
1,238 mm (48.75")
Maximum Height
1,892 mm (74.5")
Screw Pad Adjustment
89 mm (3.5")
Base Diameter
813 mm (32")
Wheels / Diameter
76 mm (3")
Top Pad Diameter
152 mm (6")
Stand Capacity
8,165 kg (18,000 lbs.)