JP-6
SKU# 5175349
2,722-kg. Capacity / Telescoping Sliding Jack Platform
---
This convenient sliding jack is capable of lifting 2,722-kg. Designed specifically for use with four-post style runway lifts, lube racks and quick-lube pits.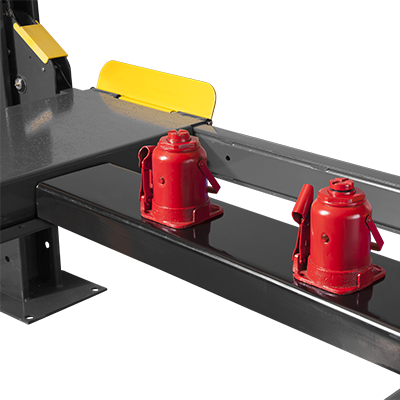 Our Higher-Capacity Sliding Jack
This optional 2,722-kg. capacity sliding jack platform grants you the versatility and convenience you've been looking for and a great addition to your four-post lift. Thanks to the easy-slide design, there's now a hassle-free way to adjust the runways of your four-post hoist to accommodate different tread widths. The precision grooves allow the jack platform to be positioned anywhere under a vehicle, making this optional sliding jack perfect for wheel and suspension work. The JP-6 is an adjustable sliding jack platform.
Features
2,722-kg. capacity
For use on four-post ​lifts, lube racks or quick-lube pits
Heavy-duty steel construction and low-profile design
Works with all four-post ​lifts
Sits on runways
Used with bottle jacks
Great option for occasional access to wheels and brakes
JP-6 Specifications
Capacity
2,722 kg (6,000 lbs.)
Overall Height
152 mm (6")
Overall Width
889 mm - 1,245 mm (35" - 49")
Inside Width of Channels
165 mm (6.5")
Shipping Weight
31 kg (68 lbs.)