6000AK Arm Kit
SKU# 5210194
Optional Arm Kit / Fits P-9000LT and P-9000LTF
---
Easy-to-use optional arm kit fits BendPak's P-9000LT and P-9000LTF low-rise car lift.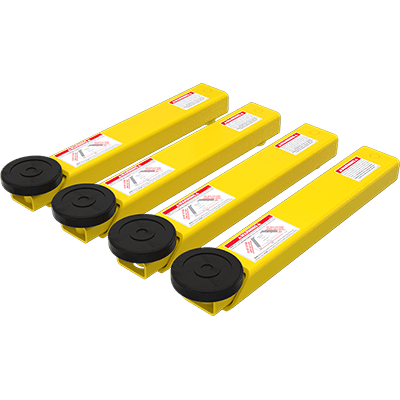 Heavier-Duty Low-Rise Lift Arm Kit
Increase your low-rise lift capabilities with the 6000AK arm kit. Designed to fit BendPak's P-9000LT and P-9000LTF low-rise pit lifts, these 4,082-kg. capacity adapters instantly extend the reach of your lift's runways.
Finding difficult-to-reach lifting points has never been easier! The 6000AK Arm Kit attaches easily to each lift ramp so you can reach challenging contact points on your frame. With new telescoping arms, each 6000AK lifting arm can be extended up to 457 mm past the edge of the platform, extending to a full 1054 mm in length. The rotating pin design makes for quick installation and rotates smoothly, giving you the power to position the lifting arm anywhere under your vehicle.
This low-profile arm kit comes complete with four telescoping lift arms and four contact lift pads. The contact pads included in the kit are interchangeable and ​feature low-profile pads. These contact pads easily ​drop into the lifting arm and have a thick polyurethane Tuf-Pad, designed to protect the chassis frame, while providing an extra-strong grip that holds your car firmly in place. Tuf Pads are also designed to withstand heavy use, giving you the freedom to safely lift vehicles of any size up to 4,082-kgs. Ideal for light trucks and vans, especially ones in heavier weight classes, the 6000AK Arm Kit allows you to adapt to any vehicle in your garage or shop with ease.
If you extend the Lift Arms (using their telescoping ability) past four inches from the edge of the platform, the rated capacity of the Lift Arms is reduced:
Up to 4 inches: 1,020-kgs. per Lift Arm, 4,082-kgs. total. No reduction in rated capacity.
At 6 inches: 680-kgs. per Lift Arm, 2,721-kgs. total.
At 10 inches: 408-kgs. per Lift Arm, 1,632-kgs. total.
At 18 inches (fully extended): 226-kgs. per Lift Arm, 907-kgs. total.
Features
Fits P-9000LT and P-9000LTF low-rise pit lifts
Increases pad width of the ramps
Easy to install and use
6000AK Arm Kit Specifications
Shipping Weight
268-lbs. (122 kg)
Shipping Dimensions
11'' x 37'' x 8'' (279 mm x 939 mm x 203 mm)