PL-18000
SKU# 5175460
8,165-kg. Capacity / 4-Level Parking Lift / Commercial Parking / SPECIAL ORDER
---
The quad car stacker PL-18000 parking lift allows four vehicles to be stacked in a single parking space. Shared, ganged columns reduce the number of components (as well as the cost) required for multi-unit installations. The base frame is made to distribute the load throughout the structure.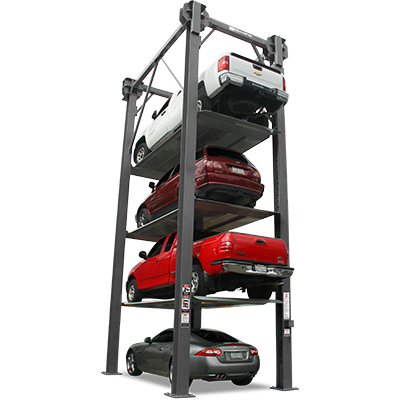 Stack Four Vehicles in a Single Parking Space
The PL-18000 by BendPak is a quad-stacking parking lift designed for both indoor and outdoor lifting and parking operations, and it is engineered to be the most cost-effective way to safely stack four vehicles. Each PL-18000 unit uses a specially designed base frame that distributes the load, making these unique lifting systems suitable for installation on the concrete floor of any home or professional shop.
4x the charm
This ​parking lift is perfect for cars, light trucks and SUVs. A single unit can be modified to share columns with multiple units, thus safely reducing the number of columns you need to purchase or install. This setup is ideal for commercial garages looking to exponentially increase their parking space. Each of the three platforms supports 2,722-kg., and the structure utilizes both a hydraulic lifting cylinder and an aircraft-quality stainless steel cable system.
The parking lift platforms are full-width and protect the vehicles beneath: no leaks or spills from above will affect the lower-level vehicles. Just like BendPak's other car hosits, automatic safety locks engage as the ​lift rises, and an ergonomically placed hydraulic power unit is easy to start or shut off on command. BendPak's own leak-proof cylinder technology ensures our hydraulic system is maintenance-free for years to come.
BendPak's superior engineering really outdid itself with the multi-stacking PL-14000 and PL-18000 parking lifts. Commercial garages can power multiple lift structures using a single, electric-hydraulic pump on each unit or a multi-unit power pump station that is capable of powering up to 10 BendPak parking lift units (number may vary).
These state-of-the-art car lift systems are well-suited for commercial parking environments and are powered by independent electric-hydraulic pump units or a multi-unit power station pump system that can operate up to 10 ​lifts, depending on the configuration, layout and other technical factors. The PL-18000 can be configured for 208-230V, 380V or 440V operations and international voltage is available. Multi-unit pump systems require their own dedicated 3-phase power circuit.
Customize your lift
If you have a ceiling high enough for a triple-stacker, BendPak offers models with overall heights of ​5,359 mm / ​5,969 mm / 7,137 mm, and these ​lifts are fully customizable. The PL-1​8000XL parking lift, for instance, comes with an extended frame, so limousines and other extended-length vehicles can be lifted with ease. Each model features a set of unique closeout legs that are available for purchase. These ​parking ​lift sets are sold separately.
Features
2,722-kg. capacity per deck / 8,165-kg. capacity total
Superstructure features durable powder-coat finish
Perfect for cars, light trucks, motorcycles and ATV's
Rugged I-beam and C-channel construction
Single hydraulic cylinder with heavy-duty steel lifting cable
Built-in wheel stops
Heavy-duty steel construction
Wide base-plate for maximum stability
Reliable electric-hydraulic power system
Front and rear wheel chocks
Full-width platform to keep bottom vehicles protected
Two-position fail safe locking system
Simple controls
PL-18000 Specifications
Style
Style:
Multi-Level Parking Lift
Overall Width
3,023 mm (119")
Overall Length
4,931 mm (194")
Overall Height
9,144 mm (360")
Upper Platform Spacing
2,493 mm (98")
Second Platform Spacing
1,933 mm (76")
First Platform Spacing
1,954 mm (77")
Floor Level Spacing
1,994 mm (78.5")
Drive-Thru Clearance
2,316 mm (91")
Standard Motor
208-230-volt, 380-volt or 440-volt
Lock Spacing
2,032 mm (80")
Note: An air supply (minimum: 30 psi / 3 CFM) is may be required for the safety-lock mechanisms to disengage. It is solely the responsibility of the end-user to provide, install and maintain the air supply.
Note: Not all BendPak lift models meet the standards as prescribed by ANSI/ALI ALCTV-2017 or ANSI/UL 201. Consult www.autolift.org for a complete list or contact BendPak via contact@bendpak.com.